Greetings...Books must state ON OUR SHELVES NOW for same day in store pick-up. We recommend calling (415-495-2992) to verify low stock numbers.
Havana Then and Now® (Hardcover)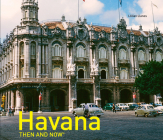 $19.95

Special Order (Not currently in store, if available it will need to come from the publisher.)
Description
---
Havana Then and Now explores the history of Cuba's fascinating capital city through vintage photographs, comparing each one with a contemporary image of the same vista. All the major buildings of Havana's rich architectural and cultural heritage are represented, including  Old Havana and its fortifications, a UNESCO World Heritage site.Author Llilian Llanes has witnessed much political change in her lifetime. Previously married to Fidel Castro's first finance minister, she has been one of the principal artistic influences on the nation, maintaining contacts with other countries through cultural exchanges.Havana Then and Now is a revision of the book she first wrote in 2003. It includes the buildings of state, the Spanish influences of the nineteenth century, the ancient churches, old public squares and shopping streets shaded by giant awnings.Sites include: Castillo del  Morro, Fortaleza de San Carlos, Wreck of the Maine, the Malecon, Paseo del Prado, Plaza de San Francisco, Muelle de Luz, Avenida del  Puerto, Plaza de Armas,  Calle Obispo, Calle O'Reilly, Barrio Chino, Tacon Market, Parque Central, Hotel Inglaterra, Hotel Plaza, Teatro Tacon, Teatro Payret, Campo de Marte,  Capitolo Nacional, Presidential  Palace, Columbus Cemtery, Monument of the Medical Students, University of Havana and Ernest Hemingway's house.
About the Author
---
Llilian Llanes is the founding director of Cuba's principal contemporary art museum, the Wilfredo Lam Center. A former art history professor at the University of Havana, she has written numerous articles on third-world art, a subject that still draws her to international conferences. From 1984 to 1999 she organized six Havanna Biennial exhibitions, attracting and displaying art from around the world. She is the author of The Houses of Old Cuba (1998 Thames and Hudson).