Greetings...Books must state ON OUR SHELVES NOW for same day in store pick-up. We recommend calling (415-495-2992) to verify low stock numbers.
Saudi, Inc.: The Arabian Kingdom's Pursuit of Profit and Power (Compact Disc)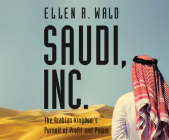 $49.99

Special Order (Not currently in store, if available it will need to come from the publisher.)
Description
---
The Saudi royal family and Aramco leadership are, and almost always have been, motivated by ambitions of long-term strength and profit. They use Islamic law, traditional ideology, and harsh justice to maintain stability and their own power, but underneath the thobes and abayas and behind the religious fanaticism and illiberalism lies a sophisticated and ruthless business enterprise. Over more than a century, fed by ambition and oil wealth, al Saud (as the royal family is known) has come from having next to nothing to ruling as absolute monarchs. Their story starts with Saudi Arabia's founder, the lowly refugee Abdul Aziz, embarking on a daring gambit to reconquer his family's ancestral home: the mud-walled city of Riyadh. And it ends with al Saud's most ambitious move yet: taking Aramco, the multinational business that has made them the wealthiest family in the world, public.