Greetings...Books must state ON OUR SHELVES NOW for same day in store pick-up. We recommend calling (415-495-2992) to verify low stock numbers.
Too Famous: The Rich, the Powerful, the Wishful, the Notorious, the Damned (CD-Audio)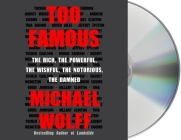 $39.99

Usually Ships in 2-6 Days (Not currently in store)
Description
---
This program includes an introduction read by the author.

If you can judge an audiobook by its enemies, Too Famous could be an instant classic.

Bestselling author of Fire and Fury and chronicler of the Trump White House Michael Wolff dissects more of the major monsters, media whores, and vainglorious figures of our time. His scalpel opens their lives, careers, and always equivocal endgames with the same vividness and wit he brought to his disemboweling of the former president. These brilliant and biting profiles form a mesmerizing portrait of the hubris, overreach, and nearly inevitable self-destruction of some of the most famous faces from the Clinton era through the Trump years. When the mighty fall, they do it with drama and with a dust cloud of gossip.

This collection pulls from new and unpublished work—recent reporting about Tucker Carlson, Jared Kushner, Harvey Weinstein, Ronan Farrow, and Jeffrey Epstein—and twenty years of coverage of the most notable egomaniacs of the time—among them, Hillary Clinton, Michael Bloomberg, Andrew Cuomo, Rudy Giuliani, Arianna Huffington, Roger Ailes, Boris Johnson, and Rupert Murdoch—creating a lasting statement on the corrosive influence of fame. Ultimately, this is an examination of how the quest for fame, notoriety, and power became the driving force of culture and politics, the drug that alters all public personalities. And how their need, their desperation, and their ruthlessness became the toxic grease that keeps the world spinning.

You know the people here by name and reputation, but it's guaranteed that after this audiobook you will never see them the same way again or fail to recognize the scorched earth the famous leave behind them.

A Macmillan Audio production from Henry Holt and Company
About the Author
---
Michael Wolff
is the author of several books about the Trump White House,
Fire and Fury
,
Siege
, and
Landslide
. His other books include a biography of Rupert Murdoch,
The Man Who Owns the News
, and his memoir of the early internet years,
Burn Rate
. He has been a regular columnist for
New York
magazine,
Vanity Fair
,
British GQ
, the
Hollywood Reporter
, and the
Guardian
. The winner of two National Magazine Awards, he lives in New York City with his family.
Holter Graham, winner of AudioFile's 2008 Best Voice in Science Fiction & Fantasy for Sherrilyn Kenyon's Acheron, is a stage, television, and screen actor. He has recorded numerous audiobooks, including much of Sherrilyn Kenyon's bestselling Dark-Hunter series. The winner of multiple AudioFile Earphones Awards, he has also read works by Scott Turow, Dean Koontz, C. J. Box, and Stephen Frey.

 His film credits include Fly Away Home, Maximum Overdrive, Hairspray, and The Diversion, a short film which he acted in and produced. On television, he has appeared in Army Wives, Damages, As The World Turns, Rescue Me, Law & Order and New York Undercover. He received a B.A. from Skidmore College and an M.F.A. from Vermont College.